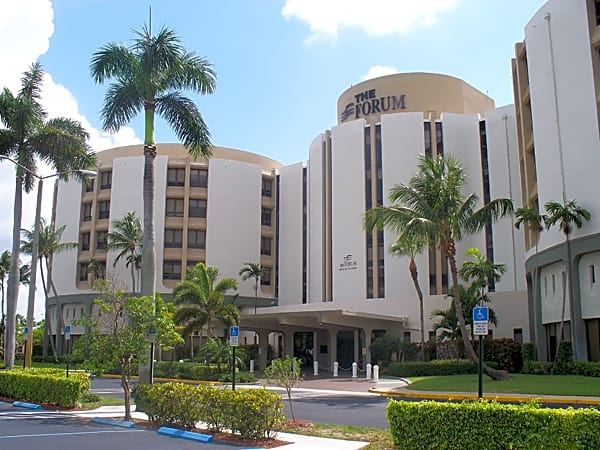 友だちにメールで教えよう!
このサイトが役に立つと思ったら… 友達にもシェアしよう!
下のフォームに記入して簡単にメール送信しましょう。
弊社ではメールアドレスを保存したり、お客さまにもお友だちにも望まれないメー
ルを送ったりすることはありませんので、どうかご安心ください。
Idyllically set along the sandy beaches of Pompano, in the northern Fort Lauderdale area, The Forum Hotel is near a staggering array of regional attractions such as Isle Casino and Racing, Palm-Aire Country Club, Fort Lauderdale Stadium, Pompano Square, Galleria, and Port Everglades.

Accommodation
Suitable for both business and vacation travelers due to its prime location, useful amenities, and mellow environment, The Forum Hotel's contemporary abodes showcase plenty of comfort to make every guest feel at ease. What's more, articles like DVD player, flat-panel TV, premium cable channels, free Wi-Fi and local calls, plus voice mail allow patrons to remain entertained and connected while air conditioning, blackout curtains, refrigerator, microwave, iron/ironing board, desk, not to mention coffee/tea maker evoke a home-like atmosphere. Proficient housekeeping is present daily.

Hotel Facilities
In the morning, The Forum Hotel offers delicious complimentary breakfast in the delightful dining room. Additionally, lodgers have access to a microwave in the quaint lobby, event catering, media library, laundry facilities, free Wi-Fi in public quarters, and air conditioning throughout the building. Moreover, a professional business center, audiovisual equipment, together with multiple conference rooms promote a productive stay while supervised childcare/activities appeal to those traveling with children. Nearby golf, tennis, fishing, and swimming opportunities encourage endless hours of outdoor fun.

Transportation
The Forum Hotel is merely 11 miles from Fort Lauderdale's airport. Furthermore, those traveling by vehicle, RV, bus and/or truck are afforded complimentary parking on the premises.
予約する方法
The Forum Hotel and Conference Centerで予約するのが簡単で安全でございます。ご希望の日付を選択します。そして、フォームを送信するために「料金を確認し」というボタンをクリックします。 客室タイプと料金はお宅の画面に戻った後で、画面の中央にある部屋の情報を読むと画面の右側にある「予約する」というボタンをクリックすることによって希望の料金を選択することができます。希望の客室タイプを選択した後で、「ご予約を完了」というフォームに転送されます。その時に「滞在の詳細」を確認して、「ゲストの詳細」という部分の空欄でご自分の詳細のことを書きます。ご自分の名前とメールアドレスが正しく入力されていることを確認してください。 すべての重要な情報を記入した後で、「ご予約を完了」というボタンをクリックしてください。ご自分のセキュリティを確保するために、私たちがクレジットカード番号を暗号化し、非使用可能な形式にエンコードする安全なコマースサーバーを使います。
地域情報
空港

Pompano Beach, FL, United States (PPM) - 2.00 mi
Fort Lauderdale, FL, United States (FXE-Fort Lauderdale Executive) - 3.15 mi
Fort Lauderdale, FL, United States (FLL-Fort Lauderdale - Hollywood Intl.) - 10.64 mi
Boca Raton, FL, United States (BCT-Boca Raton) - 10.72 mi
West Palm Beach, FL, United States (LNA-Lantana) - 25.29 mi
Miami, FL, United States (MIA-Miami Intl.) - 31.04 mi
West Palm Beach, FL, United States (PBI-Palm Beach Intl.) - 32.12 mi
Homestead, FL, United States (HST-Homestead Air Reserve Base) - 53.28 mi